Working with the Environment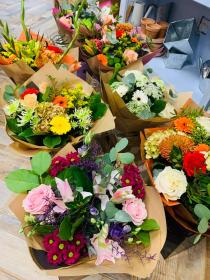 We are committed to eco-friendly floristry and have been working hard to use materials and supplies that are environmentally friendly with Papers and gift wrapping that are biodegradable. Wherever possible we have eradicated the use of plastics and plastic based materials in our bouquets.
It is not always easy, but we are noticing more and more that our suppliers are working with eco-friendly alternative materials.
And our clients are noticing too. We've received very favourable comments from clients who recently received our Valentines bouquets making particular note that in the bouquets they received no plastics were used at all.
We are very proud of this and will keep working to give you the best that is best for the beautiful world we live in